Listen to Radio Sangam on your smart Speaker
Most requested Songs
To all the women out there, stand up for your right.
https://www.youtube.com/watch?v=eGbNzcVyHLw
Before we get to the most requested songs on Radio Sangam, we always have a little segment on what we think is innovative music coming out of South Asia. This time our focus is on the Pakistani band Karakorum. Gol Chakkar is not only interesting but different for Pakistan. It reminds us of the heady days of Junoon and the softness of Vital Signs subtly comes through.
This weeks most requested music on Radio Sangam is as follows:
Hereiye, an offering from Aright Singh and Jasleen Royal is at number 1. The song features Dulquer Salmaan & Jasleen Royal and is one our favourites also.
Chaleya from Shah Rukh Khan's Jawan comes in at number 2, have a read of the film review on our website. The song is sung by Arijit Singh & Shilpa Rao
Shush's Cheques comes in at a strong number 3 for Radio Sangam followers. We have this requested at least 9 times a day.
We just love everything that A P Dillon does and it seems that every listener of Radio Sangam does too. The fourth most requested song at Radio Sangam is With You by the lovely A P Dhillon.
at number five comes a none Hindi song, Hukum - Thalaivar Alappara (From "Jailer") by Anirudh Ravichander
Mahiye Jinna Sohna has been a strong contender by Darshan Raval is a favourite at the moment and comes in at number 6.
Janiye by Vishal Mishra from the Netflix chor nikal ke bhaga is a favourite and comes in at number 7.
What Jumka from the movie Rocky Air Rani Kit Poem Kahani featuring Ranger and Alia sung by Arijit Singh and Jonita Gandhi with some rapping from Ranveer Singh was bound to be in our top 10 (number 8 for Radio Sangam) as the film was a massive hit in the UK.
Prabh's offering of 9:45, another Punjabi number comes in at number 9 for Sangam fans.
We're all Malang's at heart and it's no surprise that Malang Sana is featured in our top ten and comes in at number 10. Sung by Sachet Tandon & Parampara Tandon
Other notable favourites: The following are not in our tp 10 requested songs but we love them and they are requested loads!!!
Guli Mata, a Hindi and Arabic collaboration is a big hit with our listeners. Sung by Sheryl Goshal and Saad Lamjarred
A Saraiki offering by Annan Dhool touches the heart of every migrant. Beautiful lyrics with a fabulous tune is also in our top list.
Below are previous favourites.
Naiyo Lagda Dil Tere Bina is at Number 2
Besharam Rang has dropped to Number 3
Take it Easy By Karan Aujila and Ikky is at number 4
One of our favourites - Ranjha by Jasleen Royal is at number 5
Pasoori by Ali Sethi is still setting a trend.
Kana Yaari by Kaifi Khalil is still a favourite
From Pakistani folk, the most requested is Jung, The Sufi Mash Up by yashfeen Ajmal Sheikh.
Don't forget to vote on our app and on our website for your favourite songs if you would like them featured in our list.
RADIO SANGAM 107.9 FM THE ONLY ASIAN MUSIC STATION YOU NEED
Colourful, vibrant and ALIVE, Radio Sangam is Kirklees only Asian Radio Station broadcasting on FM in Kirklees and the surrounding areas and on DAB in Manchester, Birmingham & Glasgow. Radio Sangam is listened to around the globe through our innovative app, through facebook and through our website.
Radio Sangam is the UK's most followed Asian music station, broadcasting on 107.9 FM in Yorkshire, on DAB Digital in Greater Manchester, Birmingham and Glasgow. We also have over 2.7 million people who have downloaded our free app in 54 countries. With a reach of 3.5 million people in the UK, the Radio Sangam brand has an enviable brand reputation and supports lots of lots events around the UK, Europe and the USA. As an events organiser the station has organised and or carried out over 63 events in the past two years, including artists such as Rahat Fateh Ali Khan, Atif Aslam, Sherya Goshal, as well as Bhangra artists such as Jasmine Sandlas, Guru Randhawa and Gurdas Mann. The Sangam Media Group has the following companies in its organisation: Radio Sangam, Sangam Records, Sangam Silver Screen, Sangam Urdu News and Sangam TV. With a strong presence in Film, TV and Radio, we are ideally placed to support your organisation.
Radio Sangam is broadcasting 24 hrs a day on 107.9 FM. If you want to get involved contact the team on 01484 549947. If you've ever had a desire to present on a radio show then this is the perfect opportunity for you. Radio Sangam also supports Summer school transitions, schools radio and media projects as well as supporting courses in Further and higher education. Our state of the art digital studios are fully furnished with the latest technology including play out systems. The studios also boast two additional media training rooms for use by the community. Running as a not for profit organisation and supported by volunteers, Radio Sangam boasts the same standards in delivery and performance as any commercially based station.
Officially launched in May of 2016 as a permanent station, Sangam has been bro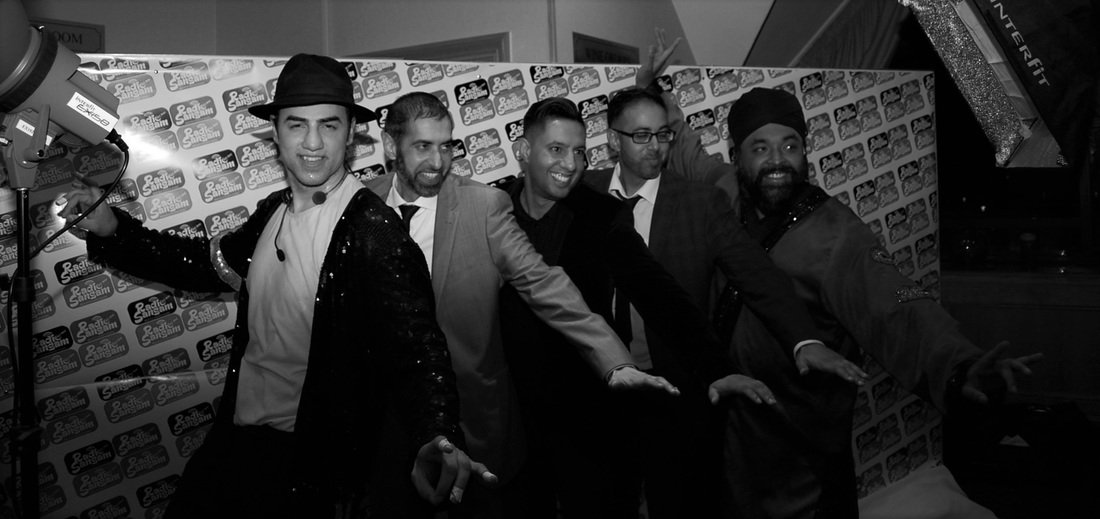 adcasting in the region for over a decade on RSL licences. The launch event was a taste of region for over a decade on RSL licences. The launch event was a taste of what Sangam was going to bring to the region with class acts such as Signature from 'Britain's Got Talent, the amazing Tanya Wells and local stars such as Shery Hassan and Aiden Mufti. Even the Lord Mayor of Kirklees had a bash at dancing with Signature.
Quaid E Azam Day

Come join us at the Hudawi Cultural Centre to celebrate Quaid E Azam Day, a day dedicated to honoring the great leader of Pakistan, Quaid-e-Azam Muhammad Ali Ji...

at

Hudawi Cultural Centre
Rj Amna Ali

7:00am - 9:00am

Discover Pakistan

Aqsa

9:00am - Noon

Pakistani Hip Hop Music, Gup Shup & Lots More

Rj Asim Khan

Noon - 3:00pm

Dil Da Mamla
Latest Bollywood News
The RSS feed does not contain any items.
Local Weather

Sunny intervals

High: 3°C | Low: 0°C

Birmingham Weather

Sunny intervals

High: 4°C | Low: 3°C

Glasgow Weather

Medium-level cloud

High: 3°C | Low: 2°C

Manchester

Sunny intervals

High: 5°C | Low: 2°C